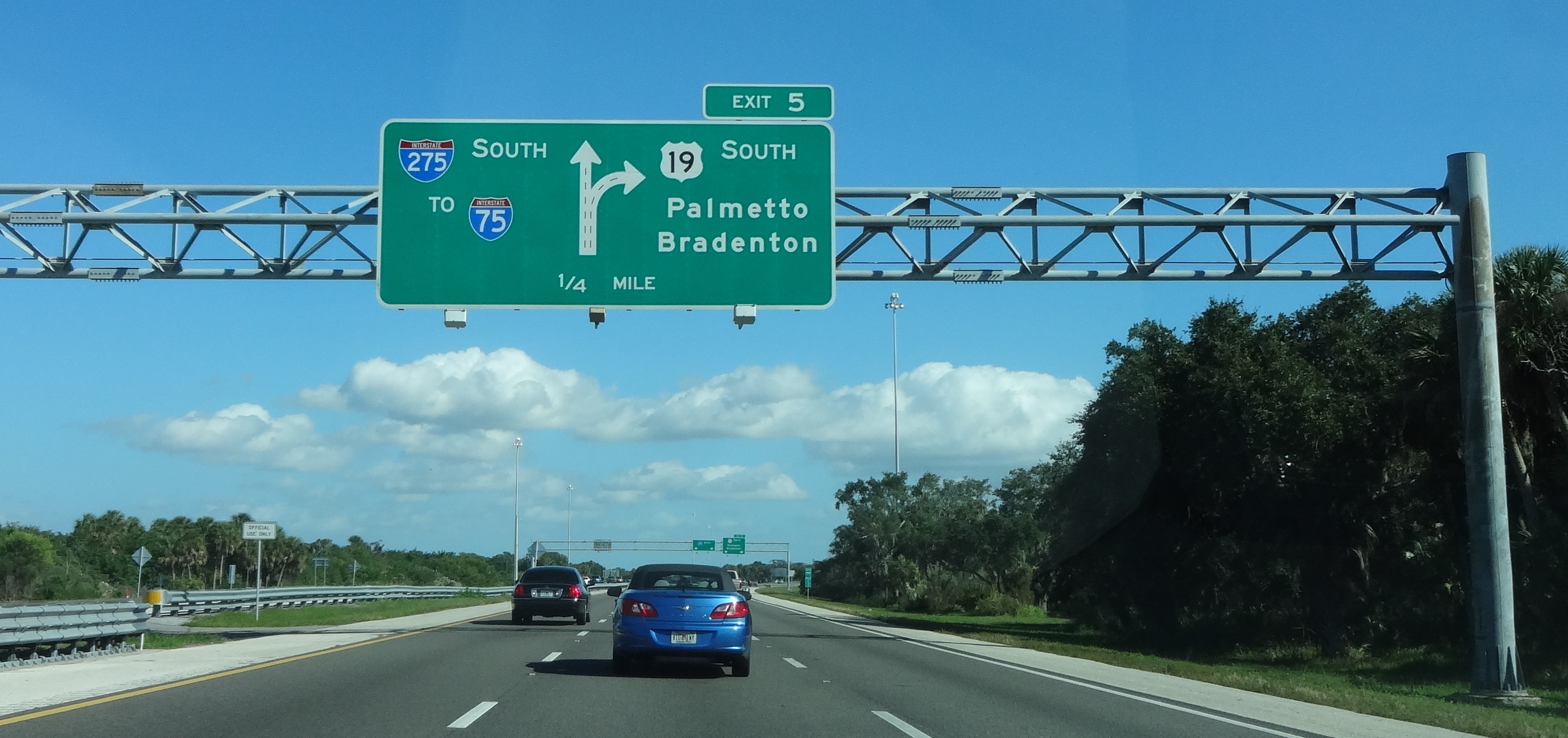 Exit 5: US 19 South to Palmetto and Bradenton
Once a part of the Sunshine Skyway system, US 19 was reconfigured with its northbound lanes becoming an entrance ramp and its southbound lanes becoming an exit ramp in order to accommodate the Interstate 275 mainline which connects US 41 and Interstate 275's southern terminus in Parrish to the east. Before the upgrading of that part of US 19 into Interstate 275, there were a couple of businesses that fronted US 19 just east of the Sunshine Skyway south toll plaza but had to be closed when the Florida DOT purchased the additional right of way needed to build this segment of Interstate 275.
Exit 5 is a partial interchange, featuring a northbound entrance and a southbound exit. Southbound motorists that accidentally exit onto southbound US 19 have to travel to US 41, then turn around onto US 41 north to rejoin Interstate 275. US 19 in Manatee County exists for a short segment of about 2.5 miles including a bridge over the Terra Ceia River that was built when the 1954 Sunshine Skyway was opened and twinned with a modern span in 1971 when the southbound span of the Sunshine Skyway Bridge opened. US 19 is part of a major north-south US highway running from north of Palmetto at an interchange with US 41 (which was built at the same time the 1971 Sunshine Skyway southbound span was built) to US 20 in Erie, PA for a distance of 1,438 miles. Although portions of US 19 have been either subsumed into or paralleled with other interstates, it continues to be a major north-south US highway.
Once Interstate 275 was opened from US 19 (Exit 5) to Interstate 75, Interstate 275 temporarily ended at the Sunshine Skyway's south toll plaza until the new Sunshine Skyway Bridge was opened in 1987 and its roads were upgraded to interstate highway standards in the early 1990's, not to mention a new toll plaza which replaced the original 1954 Sunshine Skyway south toll plaza.
Interstate 275 Southbound at Exit 5
Perspective of Interstate 275 at Exit 5