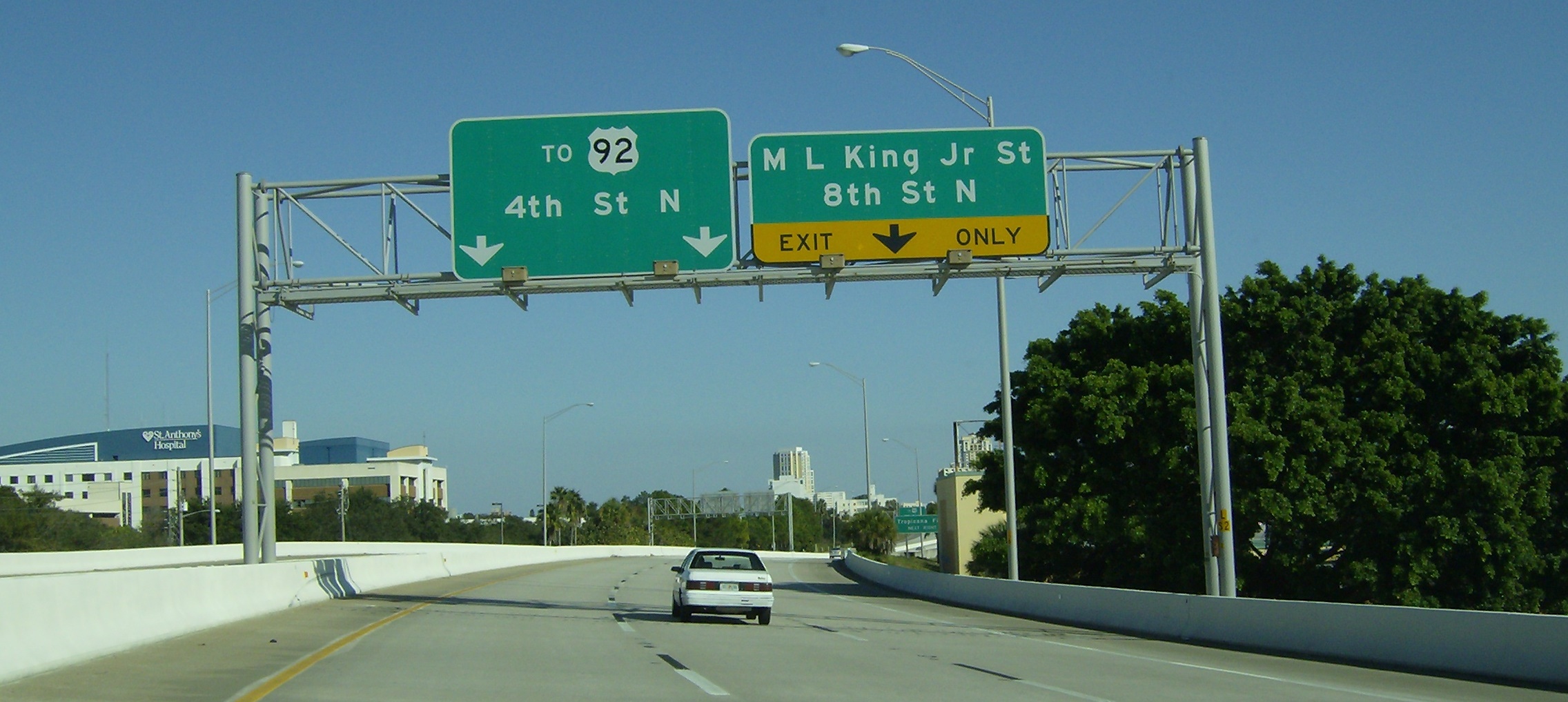 Exit 23: Interstate 375, aka North Bay Drive and
FL 595/5th Avenue North
The fifth segment of Interstate 275 brought the highway towards 5 Av N and the first connector to downtown St. Petersburg via Interstate 375. Interstate 275 in the northern half of St. Petersburg begun to take its shape when this segment was constructed in the mid 1970's. Some uncertainty stopped construction at 5 Av N for about two years, mainly due to money concerns but I'm not sure.
5 Av N (also known as FL 595) features a northbound entry and southbound exit system, while Interstate 375 features a full interchange. There is a ghost ramp from westbound Interstate 375 on the ramp to southbound Interstate 275; there were plans for an expressway to serve the gulf beaches but that idea was nixed because of the potential of public opposition, not to mention the historic neighborhoods the expressway would have to go through. 20 St N was widened from a residential side street to a four-lane street primarily for motorists who want to use 1 Av N, 1 Av S or Central Avenue.
5 Av N takes motorists to the St. Petersburg/Gibbs Campus of St. Petersburg College (which used to be St. Petersburg Junior College) as well as to Treasure Island via the 20 St N link to Central Avenue and proceeding west on Central Avenue. You may want to check out my diagram as to how Exits 23A and 23B from southbound Interstate 275 should have been built.
Interstate 275 Northbound at Exit 23
Interstate 275 Southbound at Exit 23
Exit 23 is signed on southbound Interstate 275 as Exit 23B for 5 Av N and Exit 23A for Interstate 375. There is no direct reentry to southbound Interstate 275 from Exit 23B; use Interstate 375 from Martin Luther King St N or 8 St N for southbound Interstate 275 access from 5 Av N.
Perspective of Interstate 275 at Exit 23
Interstate 375
Constructed in the mid-1970's and opened in 1978, Interstate 375 takes motorists to downtown St. Petersburg and to popular destinations such as SunDial St. Pete (a shopping and entertainment complex which used to be BayWalk) and The Pier, a prominent St. Petersburg landmark that juts out into Tampa Bay that featured shopping and restaurants until its closure in 2013. A new St. Petersburg Pier is in the proposal stages as this page is being written. Sandwiched between 5 Av N and 4 Av N (which is westbound and eastbound FL 595 respectively), Interstate 375 is less than a mile long and is shorter than its counterpart, Interstate 175. The Coliseum, a St. Petersburg entertainment landmark, is the first building you see to your left as you exit Interstate 375 at its eastern terminus on 4 Av N. You can also reach St. Anthony's Hospital by exiting Interstate 375 at Martin Luther King St N and making two left turns, one onto Martin Luther King St N and the other at 5 Av N.
If you are headed to Tropicana Field, you can use Interstate 375 as an alternative to Interstate 175 on game days. Simply exit Interstate 375 at Martin Luther King St N and head south to 3 Av S. Overhead signage will direct you to the Tropicana Field parking lot.
The speed limit is reduced to 50 mph for the entire length of this interstate. Upon exiting, there are yellow blinkers that remind motorists to slow down to 30 mph as the road transitions from an interstate to a downtown street, that being 4 Av N. Motorists, especially commuters trying to get to work on time, have learned this the hard way in the form of a visit from a Florida Highway Patrol trooper or a St. Petersburg Police officer and the resulting Florida Uniform Traffic Citation that is issued due to strict enforcement in this area.
The ramp from westbound Interstate 375 to southbound Interstate 275 has a ramp that splits off to the right that ends. This is a reminder of a cancelled project that would have extended Interstate 375 westward across St. Petersburg and across the Intracoastal Waterway to the beach communities, probably Treasure Island or Madeira Beach. While an extension of Interstate 375 towards the beach communities would be a welcome addition to those who live in the western half of St. Petersburg and surrounding areas, a combination of high land prices and neighborhood opposition would make such an expansion impossible.
Interstate 375 Eastbound
Interstate 375 Westbound
Perspective of Interstate 375
The Interstate 375 Overpass Incident
on 28 March 2007
28 March 2007 was just another day in the life of Interstate 275 at Interstate 375, Exit 23. The flyover ramp from Interstate 275 southbound to Interstate 375 eastbound was quiet. The evening commute wrapped up a few hours ago.
Until sometime before 11 PM.
A gasoline tanker trailer on its way to Sarasota to deliver fuel to the many convenience stores there did not make it to its destinations - instead, tragedy unfolded as the driver of the tanker trailer, thinking he may have still been on Interstate 275 headed south, exited onto Interstate 375 eastbound. Not knowing the fact that the driver was on a 50 mph ramp instead of the 65 mph highway, the tanker burst into flames as the driver tried to negotiate the near-sharp flyover ramp.
The tragic result was that the driver of the tanker truck passed away and a large fire ensued on the flyover ramp. As the flyover ramp goes over a City of St. Petersburg maintenance yard, several pieces of equipment owned by the City were lost as the gasoline from the tanker truck rained down from the overpass above.
The next morning engineers from the Florida DOT surveyed the damage to the overpass as a result of the tanker fire. It was concluded that a span of the overpass needed to be replaced as the concrete damaged in the fire was in no condition to let traffic back on.
With the Honda Grand Prix of St. Petersburg (as what it was called back then, today it is the Firestone Grand Prix of St. Petersburg) being held the next day and the season home opener of the Tampa Bay Rays (back when it was call the Tampa Bay Devil Rays) a week away at Tropicana Field (plus the so many commuters that regularly use this ramp) how do you manage to get by with one less exit ramp into downtown St. Petersburg? Interstate 375's cousin to the south, Interstate 175, provided the answer along with a few alternate routes into downtown St. Petersburg. From what I understand, these events got off without a hitch traffic wise.
However, I believe several factors contributed to this tragic event. I wrote the following letter to the St. Petersburg Times in response to an article published on Saturday, 31 March 2007:
When this section of Interstate 275 was built in 1977 I believe the exit onto Interstate 375 (Exit 23A) should have been constructed as a right hand exit with access to 5th Avenue North. However, when the interstate was built with the left exit onto Interstate 375 the signage was well marked with advisories and warnings regarding the left exit and the reduced speed limit to 50 mph.
As a result of numerous sign replacement projects including the most recent one in conjunction with a concrete pavement rehabilitation project a while ago the left exit advisory signage - including the yellow "exit only" panel on the bottom of the sign - was replaced with nothing more than a diagrammatic sign without any mention of a left exit advisory. Any warning of a left exit onto Interstate 375 (or its counterpart, Interstate 175) from Interstate 275 today is nothing more than a little post mounted "Exit 50 mph" sign on the left side. I agree, once you are on that ramp onto Interstate 375 it's too late.
There is a similarity between the accident on Interstate 375 at Interstate 275 and the charter bus accident on Interstate 75 in Atlanta: Both exits have minimally marked left exit advisories. Perhaps if the left exit advisories were better signed these tragedies may have been averted.
Yes, the Interstate 375 ramp should have been constructed as a right exit. Having to exit from the left lane is confusing, yet sometimes dangerous. However, the left exit design was planned for in the very first place as Interstate 375 was supposed to continue west to the beaches as an east-west beach expressway but that idea was nixed long ago. The only remnant of this idea is a ghost ramp which can be seen on the ramp from westbound Interstate 375 to southbound Interstate 275.
Yes, the signage for Interstate 375 east from Interstate 275 south (Exit 23A) does not provide for any left exit warning. Back in 1977 when this section of Interstate 275 opened it had signage for Interstate 375 east complete with an "Exit Only" panel for the two left exit lanes as well as side mounted signage warning motorists of the 50 mph speed advisory for the ramp. Thirty years and a few sign replacement projects later the signage was replaced by two diagrammatic overheads and the overhead at the point of exit no longer has an "Exit Only" panel attached to the bottom. The only warning signage that exists today is the small side mounted 50 mph advisory signage on the left side of the exit ramp.
It should be interesting to note that at one point the MUTCD - or the Manual of Uniform Traffic Control Devices, the book that defines the standards for road signs in the United States - did call for the use of the "Exit Only" panel when you have lanes departing from the mainline highway as part of the exit. The MUTCD was revised a few years ago to eliminate the "Exit Only" panel requirement when the lanes departing from the mainline interstate highway go to another interstate highway such as the junction of Interstate 275 and Interstate 375. I believe the "Exit Only" panel requirement should have been left in place as though you are transitioning from one interstate highway to another, you have exited from one interstate highway to begin with.
I believe the Florida DOT should upgrade the signage for both Interstate 375 and Interstate 175 (Exit 23A and Exit 22) from Interstate 275 south stating the fact that these exits are left lane exits and placing better warning signage such as the tipping truck graphic warning sign found in Tampa at Exit 39 (FL 60) from Interstate 275 southbound. To date, only a sign panel with the word "Left" on a yellow background mounted atop the exit number panel is the reminder conveyed to motorists entering Interstates 375 or 175 from southbound Interstate 275.
However, in the long term, the Interstate 375 interchange should be rebuilt so that the exits occur from the right lane. I have drawn a diagram showing you what the current interchange setup for Interstate 375 looks like compared to how it should have been built in the first place. My suggested plan is to have all traffic headed for Downtown St. Petersburg via Interstates 375 and 175 as well as 5 Av N exit at one place somewhere between 5 Av N (Exit 23B) and 22 Av N (Exit 24), then distribute traffic evenly amongst 5 Av N, Interstate 375 and Interstate 175.