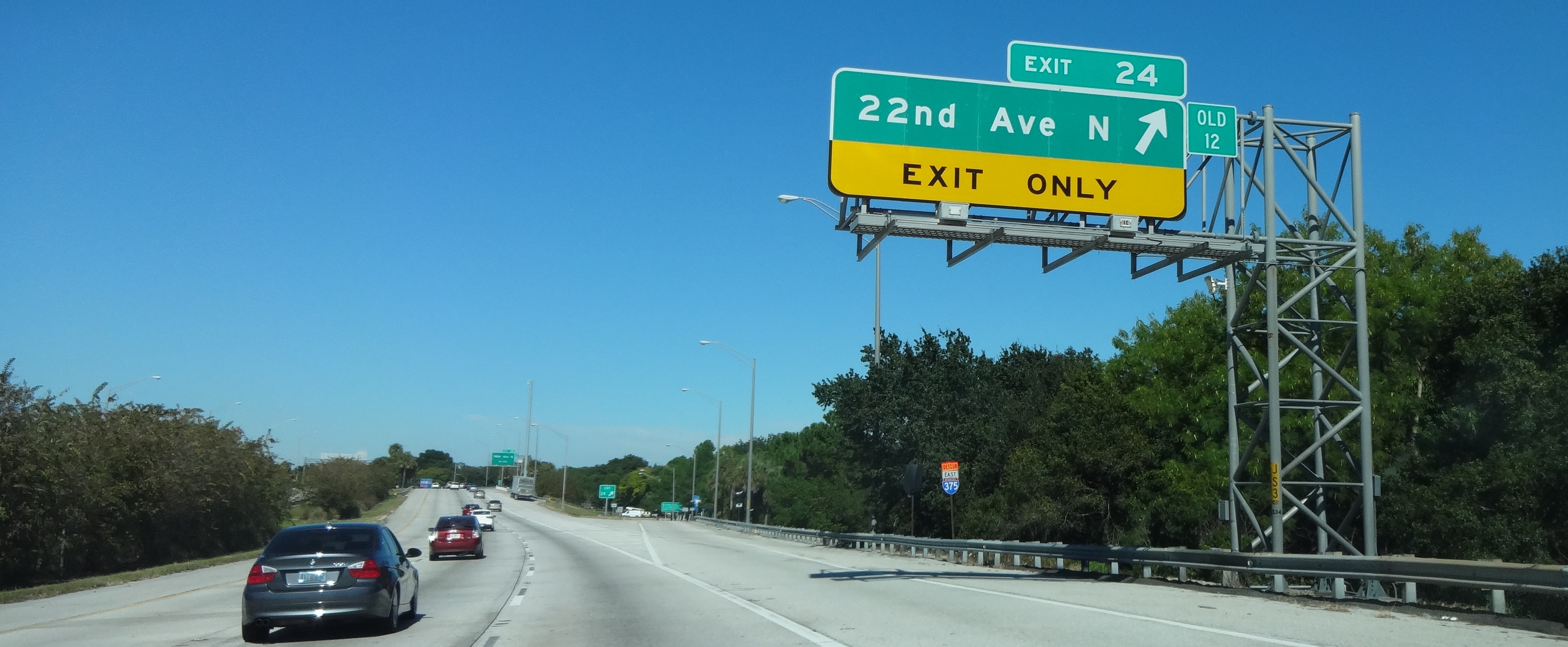 Exit 24: 22nd Avenue North
The fourth segment of Interstate 275 brought the highway from its temporary end at a point just south of 50 Av N to a point just south of 22 Av N, bringing interstate access to both 38 Av N and 22 Av N. When this section of Interstate 275 opened, a new temporary end was established at 22 Av N until Interstate 275 was extended further south to 5 Av N a couple of years later. An earlier version of Interstate275Florida.com combined both 22 Av N and the exit to the north when the highway was built, 38 Av N; for your convenience I have separated both the 22 Av N (Exit 24) and 38 Av N (Exit 25) topics.
22 Av N is a cross St. Petersburg street running from Park St N in the western part of St. Petersburg to Coffee Pot Drive NE with a connection to Snell Isle provided via the Snell Isle Bridge on Snell Isle Blvd NE. The segment of 22 Av N from 34 St N (US 19) to 4 St N (US 92/FL 687) used to be at one point a state road, FL 690. Right around the time Interstate 275 was built the FL 690 designation was removed when jurisdictional control of 22 Av N was passed from the Florida DOT to Pinellas County, making it a county road.
You can reach the Snell Isle neighborhood as well as the Sunken Gardens attraction (via 4 St N) by traveling eastbound on 22 Av N from Interstate 275. You can reach Tyrone Square Mall as well as the VA Bay Pines Medical Center (via Tyrone Blvd N) by traveling westbound on 22 Av N.
If you are wondering why there is signage directing motorists to 22 Av N for the VA Bay Pines Medical Center when in fact it would be more quicker to use 38 Av N, that is a good question! For those headed to the VA Bay Pines Medical Center from the south 22 Av N would be a logical choice as it would take you to Tyrone Blvd N, then northwest on Tyrone Blvd N (which changes to Bay Pines Blvd N at Park St N) to the VA Hospital. However, I cannot understand why those headed to the VA Bay Pines Medical Center from the north are being asked to use 22 Av N instead of 38 Av N which is a quicker route: According to a Dr. Delay article in the St. Petersburg Times the reason the VA Medical Center at Bay Pines could not be signed is that Federal guidelines (the Manual of Uniform Traffic Control Devices, the Bible of all traffic sign standards in the United States and so adopted by the Florida DOT) call for up to two destinations on a guide sign and 38 Av N is at the two destination limit. The two destinations on 38 Av N on southbound Interstate 275 are Madeira Beach and Redington Beach.
Interstate 275 Southbound at Exit 24
Interstate 275 Northbound at Exit 24
Perspective of Interstate 275 at Exit 24
The Pedestrian Overpass north of Exit 24
at 27th Avenue North
Just north of 22 Av N there is a pedestrian overpass that enables students that used to attend Norwood Secondary School (which was an elementary school in its beginnings and later becoming an alternative high school for students from all over the Pinellas County School District who have had serious disciplinary problems, but Norwood Secondary School was closed recently) and the surrounding neighborhood to safely cross the interstate. The overpass is located on 27 Av N west of 22 St N.
Today the Pinellas County School District operates four alternative schools countywide, two of them being Pinellas Secondary (which serves Grades 6 to 12) and Bayside High School. According to the Pinellas County School District's web site for these alternative schools, students reassigned to Pinellas Secondary School are usually assigned for one to two semesters and are eventually returned to their assigned schools, while Bayside High School (grades 9 to 12) keeps students until graduation.
The pedestrian overpass was built in 1974 along with the rest of Interstate 275 in this segment. Pedestrians ascend to and descend from the overpass using a steep circular ramp similar to a parking garage ramp. I am not sure what the Florida DOT will do with this overpass now that Norwood Secondary School is closed permanently.