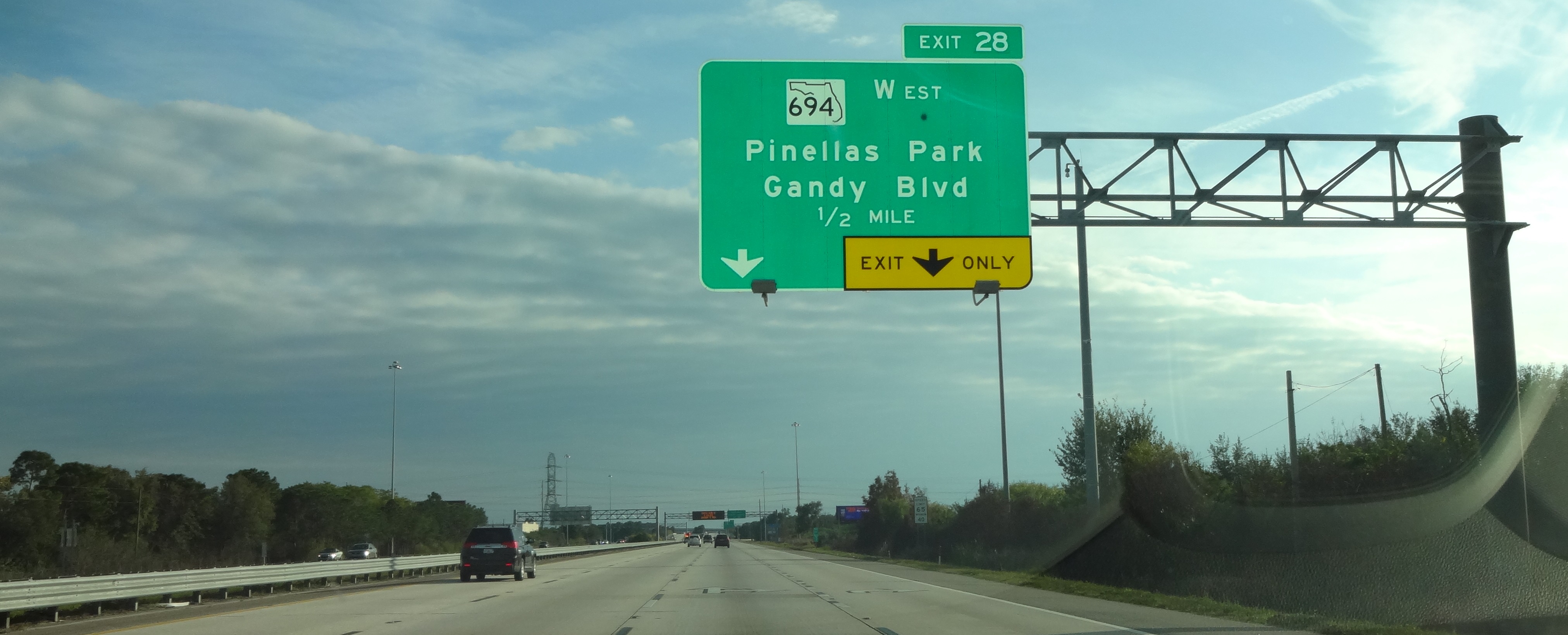 Exit 28: FL 694/Gandy Blvd.
The second segment of Interstate 275 brought the highway to a point just south of Gandy Blvd., also known as FL 694. Before construction in 1971 Gandy Blvd. was a two-lane road from US 19 in Pinellas Park to 4 St N in St. Petersburg utilizing 94 Av N and the present-day Koger Blvd N. When Interstate 275 was built in 1971 Gandy Blvd. was widened to four lanes but only within the interchange area. In 1977 Gandy Blvd. was reconstructed from a two-lane highway to a four-lane highway and it was realigned for a better connection at 4 St N. Soon after Gandy Blvd. was switched to the new alignment the old alignment on 94 Av N reverted from Florida DOT to City of St. Petersburg control. Today Gandy Blvd. is a continuous four lane highway starting at the overpass crossing US 19 in Pinellas Park all the way to 4 St N and beyond.
Exit 28 features a full-access interchange except for traffic westbound on Gandy Blvd. intending to go northbound on Interstate 275 as well as traffic exiting southbound from Interstate 275 intending to go eastbound on Gandy Blvd. In 1981 two desperately-needed ramps were added allowing traffic from Pinellas Park to enter Interstate 275 southbound and traffic from northbound Interstate 275 to exit at Gandy Blvd. to go westbound to Pinellas Park. With the opening of the Park Blvd. Bridge in 1981 the Park/Gandy highway system became Pinellas County's next cross county thoroughfare.
Motorists headed westbound on Gandy Blvd. can go not only to Pinellas Park, they can also go to Seminole and Indian Shores. The road name changes from Gandy Blvd. to Park Blvd. at US 19. Eastbound motorists on Gandy Blvd. can access Derby Lane (which is a greyhound race track) or take an alternative route to Tampa via the Gandy Bridge. Believe me, the Gandy Bridge is a better commute to Tampa/St. Petersburg alternative during rush hour when traffic on the Howard Frankland Bridge gets backed up, especially on the Tampa side.
A Suggested Exit 28 Makeover
During the afternoon rush hour traffic on Interstate 275 northbound approaching Exit 28 can get backed up that the right lane is clogged from time to time. I have a discussion on a suggested makeover of Exit 28 at Interstate 275 which you can view by clicking on this link.
Interstate 275 Southbound at Exit 28
Interstate 275 Northbound at Exit 28
Perspective of Interstate 275 at Exit 28
The Gandy Blvd. Flyover
In 2017 a series of flyover overpasses was built on Gandy Blvd. linking Interstate 275 to east of 4 St N. This relieved congestion on a part of Gandy Blvd. from Interstate 275 to the interection of 4 St N as well as Roosevelt Blvd., which was becoming way too common. Today, a motorist wishing to utilize the Selmon Crosstown Expressway in Tampa via Gandy Blvd. can exit Interstate 275 northbound at Exit 28 and head east without the congestion. When the western Selmon Crosstown extension opens from Dale Mabry to just before the eastern terminus of the Gandy Bridge, it will be just one traffic light at the entrance to the Derby Lane Dog Track.
Maybe one day an overpass is built on Gandy Blvd. at Derby Lane and Brighton Bay. Just add frontage roads on the St. Petersburg side of the Gandy Bridge with a couple of minor overpasses, one to benefit the studios of WTSP-TV 10 News, the Tampa Bay region's CBS affiliate. Build a new eastbound Gandy Bridge span and you can have an alternative to the Howard Frankland Bridge. Only question is when and if the Florida DOT would build something like this.