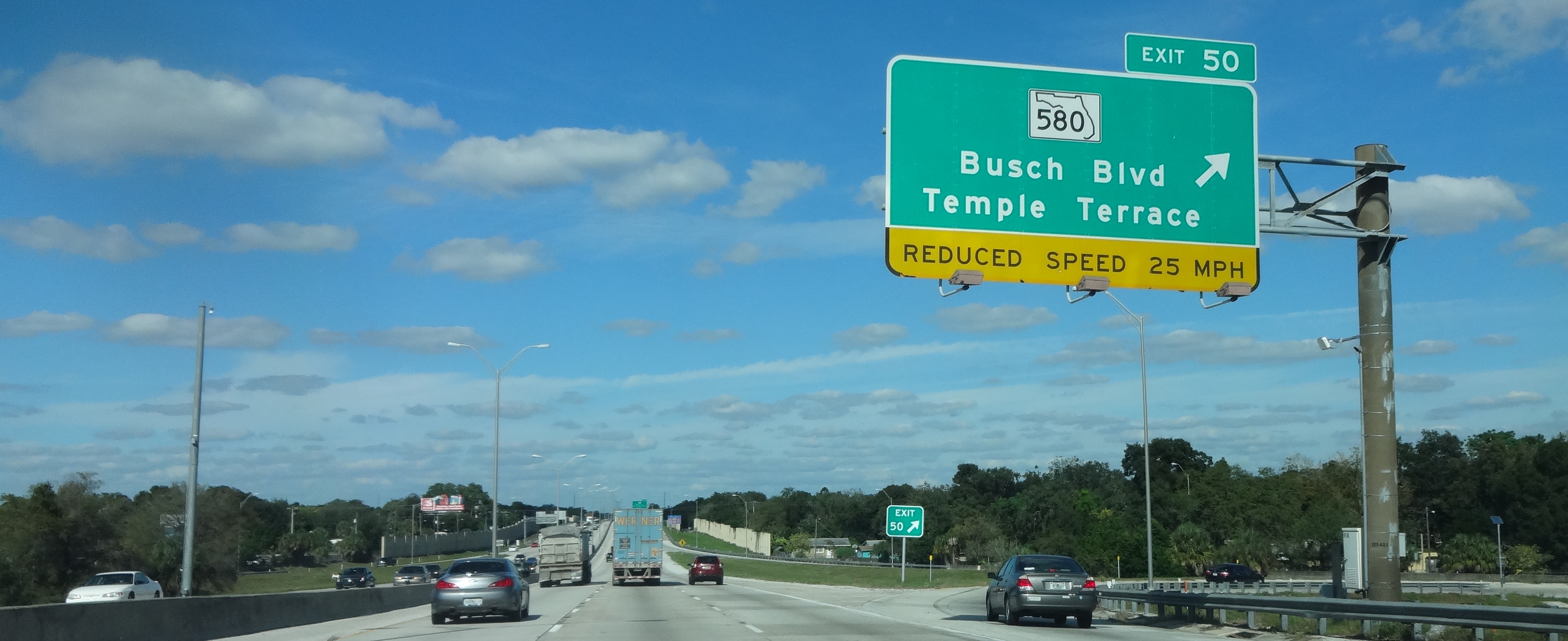 Exit 50: FL 580/Busch Boulevard
Making its journey through northern Tampa is the next segment of Interstate 275 originally constructed in 1967 at Busch Boulevard. The original 1967 construction was six lanes south of Busch Boulevard and four lanes north of Busch Boulevard. Construction to widen the four lane segment north of Busch Boulevard to six lanes began in 1999 and completed in 2002; this was desperately needed to accommodate the rapid growth of the area north of Tampa as the original four lanes north of Busch Boulevard were inadequate for today's standards.
Busch Boulevard is an east-west highway carrying FL 580 from Dale Mabry Highway to Temple Terrace. One of the Tampa Bay area's major attractions, Busch Gardens and Adventure Island, can be reached at this exit. It is believed that this exit would be situated at Yukon Street rather than Busch Blvd., which is why the overcrossing on Yukon Street is wide enough to accommodate a divided highway with four lanes of traffic.
Of particular interest is the way the interchange is designed than the rest of the Interstate 275 interchanges throughout Tampa; the overpass bridge is higher than the others as it crosses an active CSX railroad track, the CSX Clearwater Subdivision servicing Clearwater and St. Petersburg. Many years ago Amtrak used to operate passenger service on this track to Clearwater and St. Petersburg but service was discontinued in 1984 and has been replaced by bus service to the Amtrak station at Tampa's Union Station; I remember this from many years ago when I used to ride the train from St. Petersburg to Tampa and vice versa during my younger years (this was before getting my first driver's license and way before I started volunteering at the railroad museums, of course!). The ramp from Interstate 275 northbound to Busch Boulevard is a sharp turn to the right, hence the 25 mph advisory signage.
Interstate 275 Northbound at Exit 50
Interstate 275 Southbound at Exit 50
Perspective of Interstate 275 at Exit 50