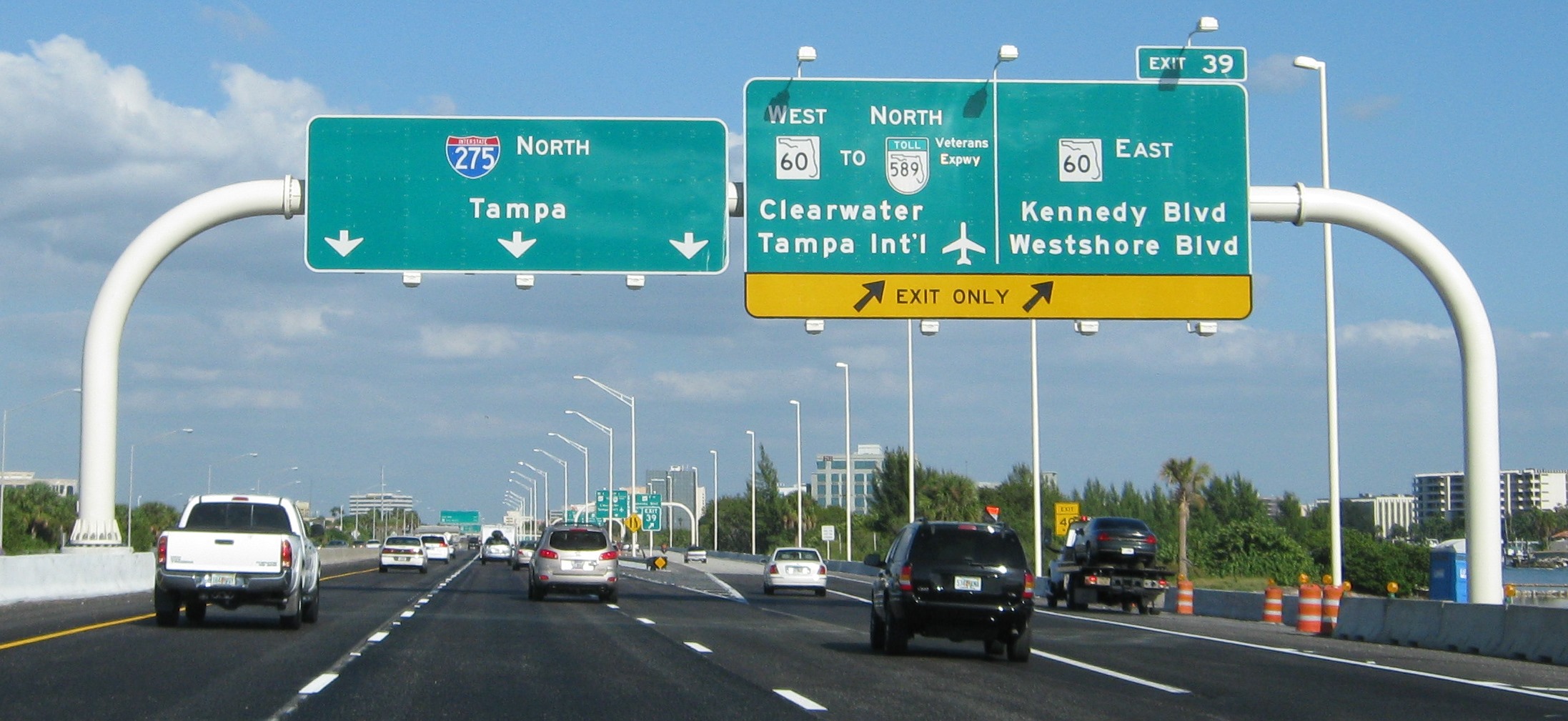 Interstate 275 Tampa
FL 60/Kennedy Blvd. and Tampa International Airport (Exit 39) to
FL 56 in Wesley Chapel (Exit 59)
As Interstate 275 in Tampa is 20 miles long and the interchanges are more numerous than in St. Petersburg, I have broken up the Tampa section of Interstate275Florida.com into two parts:
Interstate 275 in Tampa from FL 60/Kennedy Blvd. and Tampa International Airport to Interstate 4 in downtown Tampa.
Interstate 275 in Tampa from Floribraska Avenue to FL 56 in Wesley Chapel and Interstate 275's northern terminus at Interstate 75.
Introduction
Thinking about taking a ride on Interstate 275 in Tampa through the screens of your computer, rather than actually being there? Well, you have come to the right place!
On our tour of Interstate 275 through Tampa, I'll show you the signs and sights as we make progress through the Tampa Bay region's largest city. We'll make a few stops along the way including downtown Tampa and Tampa International Airport. While we're on the interstate, I'll point out some interesting points of interest easily reachable from convenient exits.
Headed to Tampa International Airport?
You'll be pleased to know that I have a page dedicated to the World's Finest Airport which you can reach by clicking on this link. In addition to photos, I have travel tips for those of you flying in to the Tampa/St. Petersburg area as to navigating Interstate 275 as well as other roads within the Tampa Bay area highway network.
A history of Interstate 275 in Tampa
But first, let's start out with a history of Interstate 275 in Tampa based on my personal knowledge of the area over the years as well as field identification of the years of construction etched on the various overpasses. In addition, I wrote a term paper on the nation's interstate highway system for an American National Government class I took at St. Petersburg College (then St. Petersburg Junior College) in the early part of 1987, just before I got my AS degree in Word Processing Management.
In 1960, the Howard Frankland Bridge was completed making the third crossing over Tampa Bay a reality and bringing the expansion of what was originally Interstate 4. The original plans for the expansion of Interstate 4 through Tampa and into St. Petersburg, according to Robert Droz's website, called for its terminus to be in South Pasadena. The late 1960's saw the opening of Interstate 75 through Tampa and northward through the state; Interstate 4 was truncated at what we Tampa Bay residents call today "Malfunction Junction", according to Droz. Later, a planned Interstate 75E - which would become today's Interstate 75 - would bypass the Tampa metro area and connect points south as far as Naples and link up with Alligator Alley for the trip to Ft. Lauderdale and Miami, stopping short of Miami at FL 826. It was built in the late 1970's and early 1980's; it caused Interstate 75 to be rerouted along this new corridor and the part of Interstate 75 that went through Tampa and was proposed to run through St. Petersburg became Interstate 275.
According to my knowledge of Interstate 275 through Tampa as I mentioned earlier it all started with the construction of the Howard Frankland Bridge across Tampa Bay into St. Petersburg in 1960. Work on the segment which was originally Interstate 4 from the Howard Frankland Bridge to the Hillsborough River in downtown Tampa was completed in 1962 and 1963. In 1964 the Interstate 4 interchange which we commonly know as "Malfunction Junction" was constructed with a stub end of highway which would eventually accommodate the future Interstate 75 as it was back then.
While work was progressing on Interstate 4, in 1964 and 1965 Interstate 75 was constructed south of segments that were previously built in northern Florida but stopped short of Tampa at Bearss Avenue (Exit 53), leaving a gap between Bearss Avenue and Interstate 4. The segment from Bearss Avenue to Interstate 4 was constructed in 1966 and 1967 with the segment from south of Floribraska Avenue (Exit 46A) to north of Sligh Avenue (Exit 48) constructed in 1966 and the segment from north of Sligh Avenue (starting at the overpass going over Broad Street) to south of Bearss Avenue (Exit 53) constructed in 1967.
Once the gap from Floribraska Avenue to Bearss Avenue was closed Interstate 75 was a continuous highway from the Howard Frankland Bridge in St. Petersburg through Tampa all the way to the Georgia state line and beyond. The segment which was originally Interstate 4 from Malfunction Junction westward was redesignated as Interstate 75.
In the early 1970's it was decided that Interstate 75 was going to be expanded as far south as Ft. Lauderdale and Miami routing it on the southwest Florida coast and taking it over the Alligator Alley, which was then a two-lane toll road that had proven dangerous until it was upgraded to interstate standards in the early 1990's. Planning for this segment also included a bypass around the east side of Tampa which was originally called Interstate 75E. In the mid-1970's the American Association of State Highway Transportation Officials (AASHTO) revised the guidelines for Interstate route numbering which has eliminated letter suffixes such as 75E; existing interstates that have already had suffixes (such as Interstate 35E in Dallas and Interstate 35W in Fort Worth) were grandfathered into the provisions.
With the suffixes no longer allowed, the Florida DOT had to come up with another idea for the way the new Tampa bypass route would be numbered. With the blessing of AASHTO and the US Department of Transportation's Federal Highway Administration (FHWA) it was decided that Interstate 75 would be routed on the new bypass route and the existing Interstate 75 from the Hillsborough-Pasco county line through Tampa and being constructed in St. Petersburg as well as the Sunshine Skyway Bridge would become Interstate 275.
A three digit interstate route number, according to Kurumi's web site, is reserved for routes that bypass metropolitan areas of cities. Such was not the case with Interstate 275 in Tampa as well as St. Petersburg. According to my limited knowledge on this subject, the Florida DOT did this in the name of discouraging through truck traffic, keeping through truck traffic headed south on the bypass route.
As Interstate 275 ages with time, so it needs maintenance and upgrading to keep up with growth in Tampa. In 2002 Interstate 275 was upgraded from four to six lanes from Busch Boulevard to just north of Bearss Avenue. In addition, signage has been upgraded and/or replaced in areas where work has been performed. A total makeover of Malfunction Junction which includes new ramps and better capacity especially during the morning and afternoon rush hours was completed. Improvements to enhance capacity on Interstate 275 from Ashley Street to the Tampa Airport exit (FL 60, Exit 39) are underway with scheduled completion in 2016; among these enhancements are a wide median corridor to accommodate a commuter rail line in the future, which for Tampa as well as the Tampa Bay region is desperately needed.
The exit numbers have been changed from the sequential numbering system to a mile marker based numbering system. Its purposes serve twofold: First, to determine how many miles one has driven from point A to point B and second, if in the event of an accident or breakdown it will enable assistance to be dispatched in a more efficient manner. Interstate 275 is not the only interstate getting the new exit numbering makeover; all of the other interstates in the Tampa Bay region as well as the rest of Florida have received the new exit numbering makeover as well.
For those commuters in the Tampa area that regularly use Interstate 275 and are confused by the new exit number makeover, I have included a chart of the old and new exit numbers which can be accessed by clicking here (PDF file).
The Interstate 275 Tampa Exits
As Interstate 275's Tampa exits are more numerous than Interstate 275 in St. Petersburg, I have subdivided the Interstate 275 Tampa page into two segments: The southern section covers Interstate 275 in Tampa from FL 60/Kennedy Blvd./Tampa International Airport (Exit 39) to Interstate 4 (Exit 45B) while the northern section covers Interstate 275 in Tampa from Floribraska Avenue (Exit 46A) to FL 56 in the Pasco county community of Wesley Chapel (Exit 59), which is also Interstate 275's northern terminus. You can click on either section to get started or you can click on the individual Interstate 275 Tampa exit entry below to go straight to that particular exit.