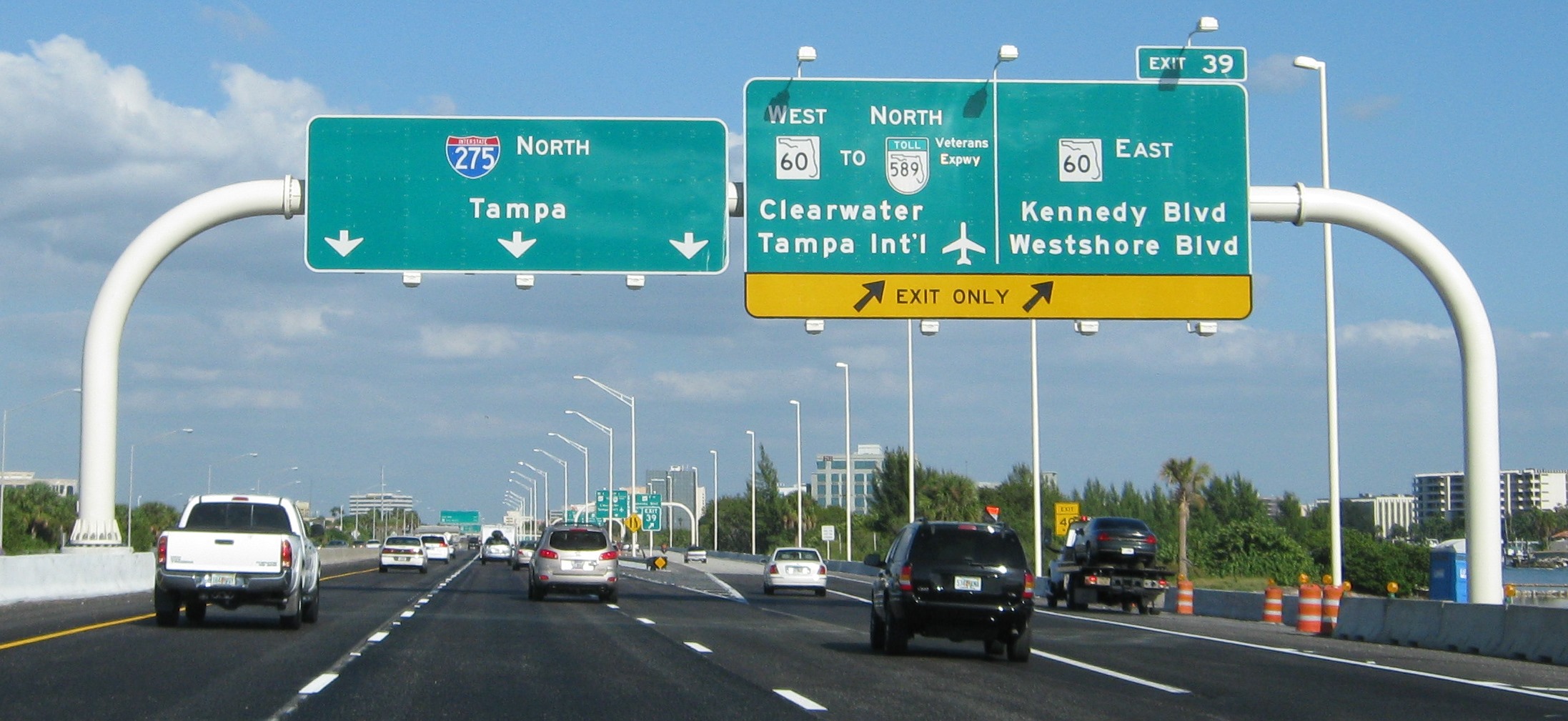 Interstate 275 Tampa - Northern Section
Floribraska Avenue (Exit 46A) to FL 56 in Wesley Chapel
and the Northern Terminus of Interstate 275
As the exits on Interstate 275 in Tampa are more numerous than on Interstate 275 in St. Petersburg, I have divided the Interstate 275 Tampa segment into two segments. This segment covers the northern section of Interstate 275 in Tampa from Floribraska Avenue (Exit 46A) and FL 574/Martin Luther King Jr. Blvd. (Exit 46B) to the northern terminus of Interstate 275 at Interstate 75's Exit 274 in Wesley Chapel, right on the Hillsborough-Pasco county line.
This segment of Interstate 275 was originally a part of Interstate 75. The segment coming from the north was built in 1964 to Bearss Avenue (Exit 53) and the segment from south of Bearss Avenue to Floribraska Avenue was built in 1966. Interstate 75 ended at today's Interstate 4 but when the decision was made to extend Interstate 75 south to Miami, Interstate 75 was extended over the alignment of what used to be the part of Interstate 4 which extended over the Howard Frankland Bridge (which opened in 1960) into St. Petersburg and Interstate 4 was truncated to its present day western terminus. However, when the Tampa bypass route was built Interstate 75 was routed over it and the original highway became Interstate 275.
From Floribraska Avenue north to Busch Blvd., Interstate 275 is a six lane highway and north of Busch Blvd. Interstate 275 was four lanes. However, widening projects transformed Interstate 275 into a six lane highway especially from Busch Blvd. northward to the northern terminus in Wesley Chapel, where Interstate 75 was transformed into a six lane highway in order to keep up with heavy demand. In fact, the interchange with FL 56 in Wesley Chapel is Exit 275 from Interstate 75 and Exit 59 from Interstate 275.
Exits Covered on the Interstate 275 Northern Segment in Tampa
Feel free to click on an exit to go to that exit directly. Or, you can use the navigation bar on the top of each Interstate 275 Tampa exit page to jump to an exit within the segment.
To view the Interstate 275 Southern Segment in Tampa, simply click here to go to that page.